Joined

Feb 12, 2020
Messages

885
Back burner project that is inspiration for me to clean up the front room and get it organized.
Prices on the storebought tables are insanely high. They want $600+ for some particleboard/mdf garbage. I even tried looking for ones on marketplace (there is no craigslist for my area- I've looked). Found nada.
So, I decided I want to build one. I'm still trying to decide on the size and configuration, but I know I want it to have a sewing machine lift so I can raise and lower it as needed. Bottom level with tabletop for some things, sewing surface level for others, and tucked away completely underneath when not in use & we want to use the table for folding and cutting.
Ana White had some
craft table plans
that were an interesting starting point. It needs major modifications though. I want the cubby/shelf open to the inside on the right (explanation on that later). I want a folding leaf on the left edge so it can be folded up or down to stretch fabric. Where the sewing machine sits, I want various drop-in leafs. First is for when the machine is at it's highest point and I want a perimeter to make the top as smooth as possible around the platform that sits on a lift. Second is a leaf that goes around the machine when it is slightly down to have sewing surface at table height. Now, this may not be necessary if the top and bottom are the same shape but some of the machines taper. I looked in to acrylic inserts but couldn't find any at a decent price & they can be a pain to cut (melting plastic does not smell nice). Last insert would be a whole smooth top to match the rest of the table.
Behold the redneck sewing machine lift as my inspiration (I would want something to secure the base horizontally so it couldn't slip)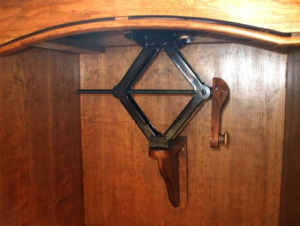 I looked in to the lift mechanisms specifically for sewing machines and they were very expensive. Cheapest one I saw was $170 or so before shipping was added in. They generally range from $240 up. I could probably build the entire table for less than that. Another reason to rule out those lifts is that they only have set parameters for stopping and you have to manually set them & it's a pain. So, I searched for solutions on how to make a lift. Came across a post & some pictures where someone used an automotive scissor jack and made a hand crank out of wood. This was just the sort of redneck solution I was looking for.
Actual sewing lift mechanism:
I could probably use some sort of Simpson Strongie angle brackets or something for the underside connection, and maybe an actual shelf bracket or two with the hypotenuse piece for extra support (more toward the back of the platform).
On the flooringforums, Highup said I would need some sort of stabilizing guide to make sure it raises evenly. Initially I was looking at rods and thinking of cutting holes in the platform to fit over them but I wasn't sure if they would glide smoothly. I started looking for ball bearing tube thingies that could fit inside the holes (although I wasn't sure how to attach them) and that led me to find a kit with two 39" rails that have a rod welded to flat pieces with screw holes. It comes with 4 glides and they have flat backs with screw holes. So I could screw a scrap of plywood to the back a little larger than the glides so I could attach them to the platform (still considering different methods/location of attachment). The rails I looked at are long enough that I could cut them in half and still have room to spare for the jack. I think the jack lifts about 13" or 14" and the rails would be 19" cut in half. The nice thing about the scissor jack is that I could raise and lower the sewing machine incrementally to get the desired heights.
Instead of having the type of lever handle used in the inspiration picture, I want something that hopefully won't have as much play-- a hand wheel crank. I got the inspiration from seeing router lifts (and from the type of crank for raising and lowering saw blades and so forth). Looked them up and they were kinda crappy and I couldn't figure out how to attach them. Didn't have the handle that let the grip spin for easier turning. Saw some examples of wooden ones using carriage bolts but they required the sort of squared part right below the head to be dremeled away. Then I found a broken paper towel holder on the floor (thanks, cats). It has a round base like a wheel and a dowel with a cap at the end. The dowel came out of the hole in the center. I could use the center hole to somehow affix it to the jack. I can use the dowel (cut shorter) put off to the side more as a handle. Additionally, I found that a hollow metal tube that was the handle for a silicone serving spoon (spoon end fell off bc the plastic broke) fit around the dowel perfectly. It's loose enough that it can spin. So it could be the sleeve for when we turn the handle, the sleeve spins to make it more comfortable. I could leave it as-is (sort of chrome colored) or put grip tape on it.
These are the slides with ball-bearing glides:
These are the pieces for the handle:
I am considering putting a folding leaf on the left side of the table so it can make the table larger for laying fabric and cutting. But it depends on the ultimate size of the table.
Inspiration image:
Image collage of my lift mechanism ideas:
I'm getting brain freeze.
Any suggestions/input?