Joined

Feb 12, 2020
Messages

284
I will probably have to edit this post since I need to locate some of the photos to show the progress. To explain the history a bit, my best friend's house burned on Easter 2016. He moved into a trailer for awhile but ended up letting his ex live there (rent free). She was supposed to buy it but has thus far refused to pay a dime.
He lived with his father & paternal grandparents for awhile but there were problems & he had to move out of that situation. His father passed away & then a few months later his grandmother passed away. Living with his grandfather was unbearable (the man is *super* annoying).
He's in a bad financial situation because he nearly died in a wreck in 2015 & his ex took his wallet while he was in the hospital & used his info to open up multiple credit cards & max them out.
He ended up moving in to his late maternal grandmother's house after fixing it up. The tenants had been meth addicts so they totally wrecked the place. Floor was falling apart, roof leaking, carpets were nasty, syringes & drug residue everywhere-- place was disgusting.
The kitchen was a tiny room that was smaller than the bathroom. Roof leaked horribly & ruined everything in it & rotted the floor. So he repaired joists & replaced floor, put in new carpets in the rooms, converted the kitchen to a walk-in pantry (but it's currently the gaming room), converted half of the living room to the kitchen, merged the bathroom & laundry room, & put metal roofing on half the house.
I couldn't help too much with labor on some of it, but I did help him find products, researched stuff, helped haul lumber in my truck, took him places, & we paid for most of the stuff since he kept getting screwed over & having people steal from him. He's finally starting to do OK financially, but still lives paycheck to paycheck.
The pics of the old kitchen & of the bathroom during subfloor replacement are somewhere on my phone or computer but I need to dig them up. I do have some pics of the bathroom & current kitchen though.
The sink cabinet is a one-piece unit from Lowes. Project Source brand unfinished oak. Front trim is oak, rest of it is crappy mdf. I water-sealed the mdf but it is still rather fragile. Parts of it broke during installation so it was patched with fiberglass screen & gorilla tape. Gaps were sealed up to keep mice & roaches from squeezing in. Counterop was Formica VT Dimensions Labarador Granite laminate- prefabbed. Had to be cut to fit & I water-sealed the edges.
They wanted the cabinets to look like a medium gray ash type wood but the stain I got didn't want to soak in, kept showing too much yellow from the wood underneath, and went on more like paint. They ended up deciding they liked the more painted look, but you can still see the wood grain a bit. If I had it to do over again, I would have pickled the wood to take the yellow out & then done the stain & wiped it away. I tried the wipe-away technique at first but it didn't work with the Rustoleum stain. Wish I'd tried Minwax instead, but they didn't have it when I first looked. It still looks nice though.
He had a fridge we got him from right after the house first burned but he's since replaced it (his ex had it for awhile and gunked it up so bad they could never get all the insects out). He bought a used fridge that is larger & has a drawer on the bottom for the freezer.
The side cabinets came from Surplus Warehouse (which is now called Barton's Home or something). They are less expensive & better quality- plywood construction with unfinished oak. A few of the base cabinets went in first & we got prefabbed mitered countertops- one had to be cut shorter by about 20" or so. He didn't let me take it to my workshop to cut so the cut ended up rather rough. I ironed on the side trim but it popped out in one spot where the side wasn't flat when the counter was being moved.
We later got a pantry cabinet on clearance (it was "water touched" so it was lower priced). The base corner cabinet was oddly sized & when we went to put it in, it didn't line up quite the way we wanted so it had to be bumped back a little so the rest of the cabinets wouldn't block the doorway.
Found a range hood at a liquidation store (open box/returned stuff). I picked it for them because the buttons were down lower so his short fiance can reach them without a stepstool. Picked up the 30"x18" range hood cabinet from the surplus place. I stained it & he put it up when it dried.
Found some waterproof clicklock vinyl plank at one of the big box stores on clearance & it looks much nicer in there. Still needs some adjusting, base molding, & shoe molding around some spots.
The stove was from FB Marketplace & the oven never worked (but he hadn't wanted an oven at first). Unfortunately, after trying to fix it by putting in a new LCD board control thing, it started malfunctioning & the burners would turn on by themselves with no warning lights, oven started turning on by itself & it became a hazard so they are going to replace it with a GE Easyclean 6.3cuft convection oven soon.
Stock image of base sink cabinet
After staining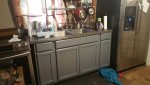 Side base cabinets pre-staining
After staining partway (ended up hitting the side later)
Pantry cabinet pre-staining (w/ my bro acting like a fool- at least his shoes look cool)
After staining
Setup for the sink with the old fridge
Setup with new fridge, range hood installed, & new flooring
Range cabinet & hood