Joined

Oct 21, 2020
Messages

21
My father gave me this sewing machine a few years ago. I forget where he said he got it, someone was throwing it away I think. He doesn't sew but he saved it for me. At the time I loved it but didn't have a space to work on it, so it went into storage. Now I finally have a good place to work on it.
This top piece of wood is delaminating and obviously needs to be replaced.
But the rest of the wood is not bad, mostly just needs to be sanded and stained and refinished.
All I did with the sewing machine was wipe off the crud and spider egg sacks and then give a thorough oiling. I don't have the manual but I found one from a nearly identical model that someone had posted online. Threaded it per instructions and gave it a try. I just did a few test stitches but so far it works great!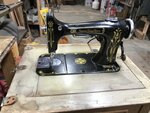 It's missing a spring for the clasp and the light bulb. The spring should be no big deal, and even if I don't find a replacement it works fine without the clasp, as you have to lift the whole sewing machine to lift the wooden panel under it to fold it inside the cabinet. I am not good with electrical but I'm hoping I can learn enough to retrofit some sort of light in the spot, since I'm not sure how to find the right kind of bulb or if they still make them.
I'll take pictures as I go and update this thread as I make progress.